Leading Wholesaler and Trader of Lifting Slings such as Polyester Slings, Hand Spliced Slings, Steel Wire Rope Slings, Chain Slings, 4 Leg Chain Slings and Endless Chain Slings from Chennai.
Polyester Slings
We supply polyester web slings, flat web slings, ratchet lashings, ratchet endless slings, multi-leg slings, bag slings, anti abrasive sleeves, tow straps and metal fittings. 100% industrial high tenacity polyester multi filament yarn having excellent light fastness and heat stabilization.

The features are:
Made of excellent quality polyester material
Higher safety factor of 1:6 and 1:7 and light weight combined with superb flexibility allow to be quickly and safely handled by user
Ability to absorb and minimize the effects of Heavy Sock Loads
All the Polyester Slings supplied by us are ideal to lift Polished, Fragile or Delicate Loads Unaffected by moisture, mildew, rot and certain chemicals
Offered in single and multiple bridles with different capacity of 1 ton to 30 ton
.
Hand Spliced Slings
Splicing refers to the joining of rope by using interweaving strands. We provide Hand Splicing Steel Wire Rope Slings, which are manufactured using high quality steel. These are used in various sectors that require heavy lifting like steel plants, sugar mills, and heavy engineering industry.

Our range is known for the following key attributes:
Features:

High resistance to corrosion
Superior durability
High strength
Effective loading
Dimensional accuracy
Steel Wire Rope Slings
We offer Steel Wire Rope Slings that are manufactured using steel and are used to lift heavy objects. These consist of fittings and attachments like ferrules, which have the capacity in accordance with the capacity of the rope sling. All our slings are tested by a competent person. The salient features of the product are given below:
Features:

High strength
Optimum resistance to corrosion
Suitable for heavy lifting
Safe to use
Chain Slings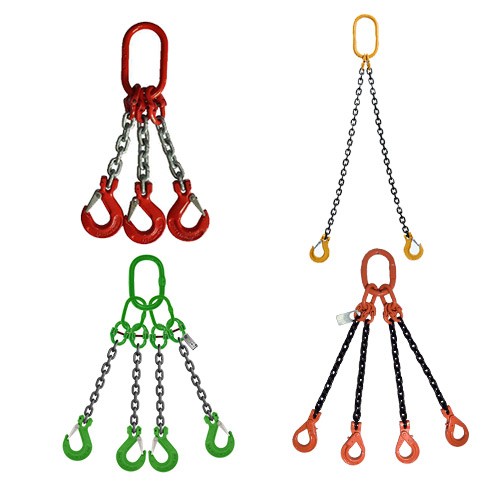 We are engaged in manufacturing of the chain slings of different configurations like the multiple legs, single leg and the adjustable leg as per the user's requirement. These slings comes with the certificate from government approved test house for the proof load as the safe working load as per client specification.
Features:

Flexible
Durable
Long lasting
Ideal for high temperature and rugged conditions